Rarely does any movie make viewers "tired" like Us when Jordan Peele installs dozens of metaphorical details throughout the duration. In addition to the main knot at the end of the film, viewers also speculate that the youngest son Jason (Evan Alex) has in fact been swapped with "copy" Pluto.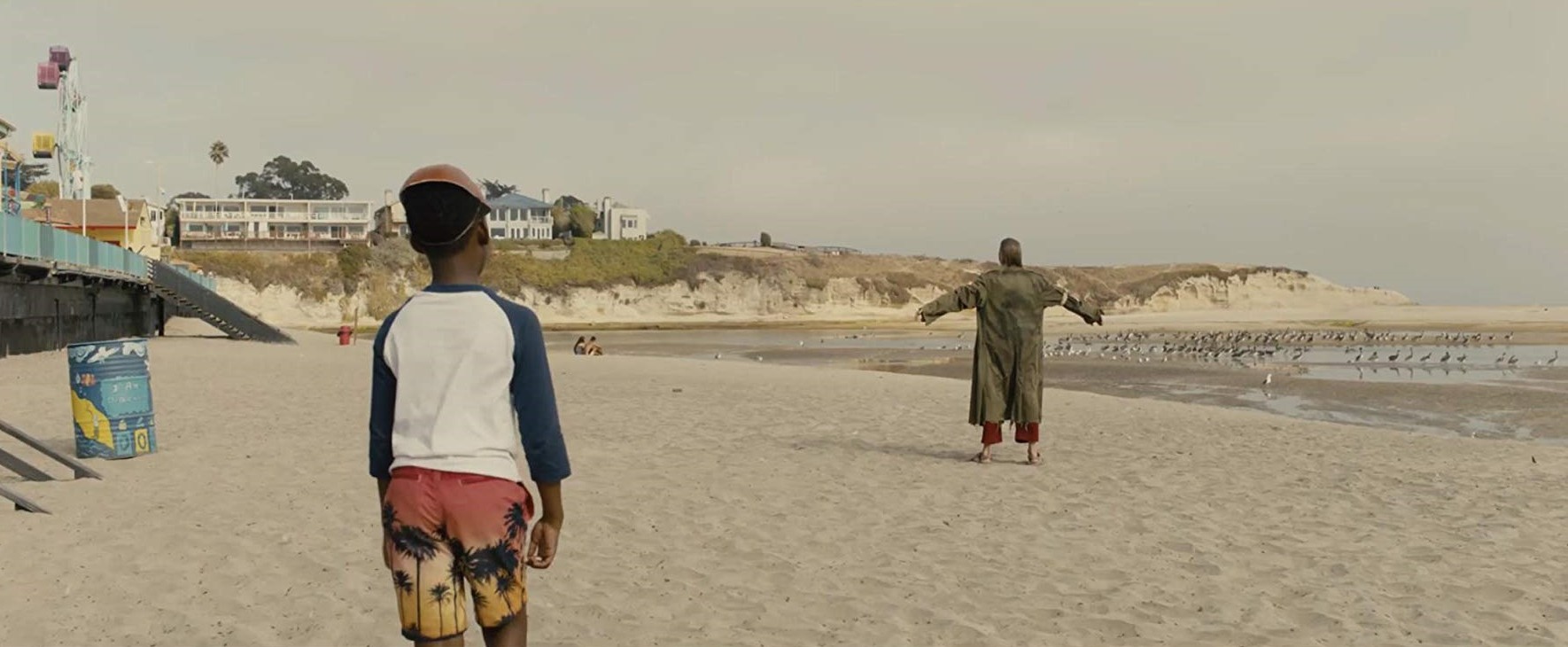 (Note: The article revealed movie content.)
Everyone knows that the content of Us revolves around the Wilson family including Gabe (Winston Duke), Adelaide (Lupita Nyong'o), Zora (Shahadi Wright Joseph) and Jason (Evan Alex) to stay at Santa Cruz beach. At night, they are suddenly attacked by 4 identical "copies". Turns out, they were Tethered (The Chained Person) created by the government to control people but failed.
Pluto is the most different than the rest of Tethered.
Tethered is then imprisoned in underground tunnels and becomes deformed "copies". When they escape, they seek to kill the originals and then hold hands around the United States (Hand Across America) as a way of confirming existence. Meanwhile, the Wilson family killed all four "copies" after Adelaide stabbed Red with a heart attack.
At this moment, unexpectedly happens when the movie revealing Adelaide is the "copy". Years ago, Red kidnapped and swapped his identity with Adelaide as a child. However, there is a theory that the work also hides a different impersonated character who is Jason and Pluto's "copy".
Wilson's family noticed Jason's change.
If you pay close attention, the viewer will notice from the beginning of the movie, Gabe commented that the youngest son is behaving differently. While demanding to go to the sea to play, his husband explained that when her grandmother died last year, Jason was negatively affected. This was probably the time when the boy was swapped and the Wilson family was still thinking about her death.
After that, Us continued to reveal that Jason was building a sand tunnel instead of a castle like "normal children". This episode silently suggested that the boy was a Tethered when he had only known dark tunnels all his life.
The boy went to the beach and built a tunnel.
Things became even clearer on the way back, and Zora said that last summer (at the same time her grandmother died), her brother had "disappeared" for a while when stuck in a locked cabinet. . Recalling the old years, Adelaide also lost only 15 minutes when going down to Santa Cruz beach and was swapped by Red.
Wilson's eldest sister had a reputation for "saying it" when she once thought that the government left Flo in the country to control the people and it was true that they had that plan. Perhaps, Zora's statement is also an omen for Jason's real exchange.
Pluto had no intention of killing Jason.
Details of the burn on Pluto's face were also implicitly explained when both of them had a hobby of playing fire. Also at a year earlier, Jason caused a fire that worried the whole family. Perhaps, the boy who suffered burns and unconsciousness at that time was swapped with Pluto. Because the burn on his face, Jason could not talk anymore.
This explains why other "copies" are quite brutal and kill the original as soon as possible. Meanwhile, Pluto just wanted to pull Jason into the closet and play the game. If you come here but you still do not believe, then analyze it again!
Pluto's death caused Adelaide to react violently.
When Umbrae ("Zora's" copy) died, Adelaide showed little grief. She stood looking at the baby with her last breath with a casual expression. Meanwhile, when Jason controlled Pluto into the fire, Adelaide suddenly reacted strongly. Apparently, she dimly realized that it was her child.
Paying attention to the scene, Pluto managed to lure Wilson into a gas trap but didn't fire it. Jason, when he was in the car forever, could not perform the "trick" with the lighter – something he had done very well before. However, Pluto in the last moments of his life is very rhythmic. Perhaps because he could not speak, he used that method to tell Adelaide that he was really Jason.
The boy is trying to say he is Jason?
The question is if Jason is Tethered, how can he control Pluto? In fact, the film once mentioned chanting two bodies of a soul and "copies" that often mimic the original on the ground. But since Red switched to Adelaide, this link was weak enough that Tethered could act comfortably. Therefore, they can even control the original version completely.
Jason didn't seem to panic on the first night that the Tetherd appeared because of him