2018 closed with a series of "bumper" tours amounting to hundreds of millions of dollars, giving artists the reputation and commercial success. To achieve such high sales, artists have to seriously invest right from the start to organize every night. Review the top 10 tours worldwide with the highest sales in 2018.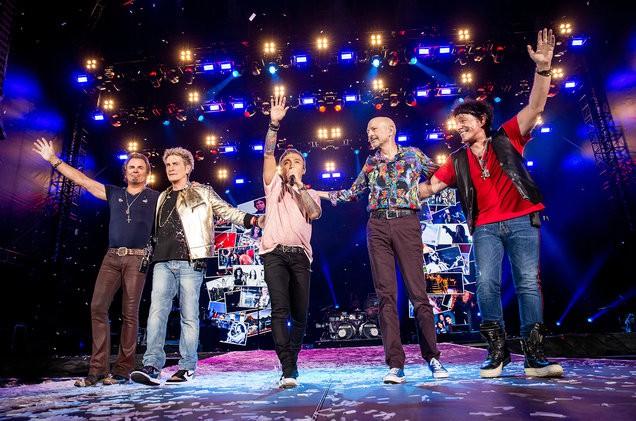 1. "÷ Tour" (Divide Tour) – Ed Sheeran
The third round-the-world tour named Ed Sheeran's "÷ Tour" (Divide Tour) ended successfully last November. This tour started in March 2017 and sold over 4.8 million tickets throughout 99 shows in 2018. The revenue that "÷ Tour" (Divide Tour) gave Ed Sheeran in 2018 This amounted to 429,491,502 USD.
2. "Reputation Tour" – Taylor Swift
Tour of "Snake Princess" Taylor Swift called "Reputation Tour" was organized to promote the 6th studio album "Reputation". The tour began on May 8 and ended on November 21 with more than 2.6 million people participating throughout 48 nights. Reportedly, revenue brought from "Reputation Tour" up to 315,186,362 USD.
3. "On The Run 2 Tour" – Beyoncé and Jay-Z
Since the resounding success of "On The Run Tour" in 2014, the duo Beyoncé and Jay-Z have continued to "break" in 2018 with their "On The Run 2 Tour" tour. During a total of 48 concerts, this tour attracted more than 2.1 million attendees and brought in huge "sales" compared to the previous tour. Total revenue achieved from the beginning of June 6 to October 4 to 253,514,983 USD.
4. "24K Magic World Tour" – Bruno Mars
Bruno Mars's third tour of music career ended successfully on December 31 with a total revenue of 237,770,168 USD. It is known that this is a tour organized to promote his 2016 "24K Magic" album. Throughout 100 official performances starting on March 28, 2017, this "24K Magic World Tour" has attracted more than 1.9 million participants.
5. "Beautiful Trauma World Tour" – Pink
"Beautiful Trauma World Tour" is the 7th tour of American singer with the stage name Pink organized to promote her seventh studio album called "Beautiful Trauma" released in 2017. Although not yet The tour ended completely, but the revenue that "Beautiful Trauma World Tour" brought to Pink reached $ 180,402,074, ranking 5th in the top 10 highest-grossing tours in 2018. Through 88 nights Since it started on March 1 in Phoenix, this tour has recorded ticket sales of more than 1.2 million.
6. "Man Of The Woods Tour" – Justin Timberlake
The sixth tour is to promote the fifth studio singer and talented musician Justin Timberlake's "Man of The Woods" album, which is at No. 6 on this list. Spending 76 concerts beginning on March 13 in Toronto, "Man Of The Woods Tour" earned its owner a total of $ 149,277,272 in 2018. By the end of 2018, the tour was Selling more than 1.1 million tickets, promises to be even more on the next show in 2019.
7. "Experience + Innocence Tour" – U2
The tour titled "Experience + Innocence Tour" by legendary rock band U2 was held to promote the 14th studio album released in 2017 "Songs of Experience". Starting from 2/5 and ending on November 13, this tour has successfully brought in revenue up to 125,600,371 USD in 60 nights. Reportedly, "Experience + Innocence Tour" has sold more than 923 thousand tickets.
8. "No Filter Tour" – The Rolling Stones
Starting from September 9, 2017, "No Filter Tour" is the Rolling Stones tour which has been considered one of the most successful tours of 2017 and 2018. And that's right, with only 14 sessions. In 2018, "No Filter Tour" earned 117,844,618 USD and sold over 750 thousand tickets. Currently, "No Filter Tour" has gone through 28 shows and is expected to end on June 25, 2019 in Chicago.